Woooo hoooo !!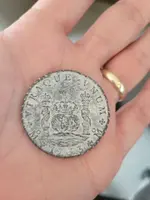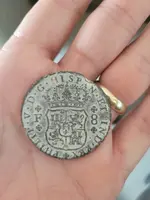 back in February i found a bunch of treasure coins...it was a high moment in my treasure hunting career. But there was the bittersweet fact that much more sand with the treasure in it was being hauled off and dumped somewhere. I tried for about 3 weeks to track this sand down and finally gave up on hunting it down and told myself...thats it, the treasure laden sand is gone. Well during the whole dig over the period of 3 days I became friends with road crew that was doing the work for the county. I bought them beers and got to know these guys....they shared the excitement with islamoradamark and myself and we all shared something special. I have kept in touch with these guys and today they called me with that photo !! They were loading sand from the company yard and found this in the sand along with a small cannon ball !! They only took a small amount of the sand to keywest to use in there cement batch plant....well if that coin came out of that sand they got the best loads down there on site
SO....Im trying to get down there after hours and help these guys get some more coins....I told them I would go and hunt for nothing...I will give all the coins found to them....I just want to find some and get the story documented and take the pics for you guys here at treasurenet !! Woooo hoooo !! The coins aren't lost !! The treasure sand has been found !!
Here's the original video of islamoradamark and I finding coins in February!!
and now 3+months later that sand that was hauled off is still giving up treasure coins !! And not just regular cobb eights, but very rare and highly sought after 1733 milled eight reales....the treasure gods are smiling on me, and im gonna get a second shot at these wonderful treasures. Im so happy for those guys...the boss wanted to buy one from me and I refused....I told him to hunt the sand and get one for himself, and he did !! Just incredible !! Maybe there will be more ??
Thanks for looking and remember it can happen at any moment and today might be your day !! Happy hunting everyone !!