Got in at one of the smallest swim spots in the keys....it was good !! Today I saw a drug lord get in the water with his family....they had more treasure on than ive ever seen any person ware into the water !! He had a diamond encrusted gold Rolex on !! The 2 chains they were wearing had to be 50,000 each.....had to be a pound or more of gold in each piece, and you couldn't count the diamonds.....every finger had a ring and he had multiple large cuban link bracelets. When I wasn't following this guy around in the shallow water I was finding good jewelry !! Got a nice gemstone ring that was pretty stained and had been down quite awhile...its gold with a massive gemstone....possibly imperial topaz or citrine....this is an older ring and had been resized....the karat mark has been removed in the process. Ill take her in for a look from my jeweler.....she's a real beauty !! Got a tiny little gold band a white gold and diamond chip earring, and topped it off with a nice white and yellow gold crucifix !!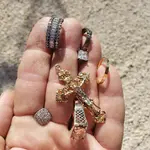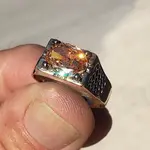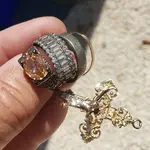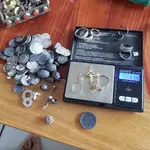 Another 11 grams of the good stuff to add to the pile....wooo hoooo !! Got some silvers too including a great silver cocktail style ring....probably just zirconia but still a nice piece
Also got a sacajewea dollar amongst many clad coins and fishing weights....you can see my sacajewea dollar right below my scale !! The crucifix was a beautiful piece also...lots of detail in it !! Thanks for looking folks and happy hunting !!
Last edited: