52 quarter
2 46 dimes
A 43 silver nickel with a P!
46 nickle
82 Canadian nickle
8 wheats
5 non wheats
All the silver and most of the wheats were all within 10 feet of eachother..
Some were VERY deep..
I'm not sure if this is a "spill", in a wash where water concentrated heavies, or possibly a person buried them in a spot and they washed down the hill a bit..
I am 99% sure their are more in that spot, but these were all the ones within the depth range of the etrac, and I need to go back with a real shovel and see about finding more..
Clear the overburden a bit, and a real shovel to get more of the SUPER deep signals I think I'm getting like barely faint blips I can't get to repeat and threshold nulls..
This is not in a park.. This is on a very old very difficult trail that they kindof closed for safety reasons.. Extremely steep..
This was just off the old trail in the woods..
Same place I found that 77 gold class ring and pocket watch, but this is a good 200 feet down the hill from there..
This sight produces!
And the silver slayer slayed my first silver!
Look at that depth gauge on the etrac just pegged deep!
VDI doesn't work super well THAT deep, but in this spot I'm going back with a shovel to even dig the threshold nulls I get where I found all of these silvers within 10 feet of eachother..
The silver nickel was one that was reading 01: 30-something and pegged depth, barely repeatable tone..
I played and played with the settings and pumped the sensitivity to find that one, and still I'm sure their are more I just can't get a lock on (and dig with what I had)..
And these old cans..
How old do you figure these types of cans are?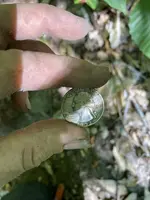 Last edited: