Gold Member

Probably should have titled this, check out your finds right away, dummy. But I wander away from the point. I went to the beach...again...went over some of the old places I normally detect...again...I watch where the crowds go, where the "events" are held, etc. and then go behind them to see what they lose.
Well, this was a pretty usual day. The sweeper had been there but after the 3rd sinker or so and the 3rd or so pulltab, finally started finding individual coins. Most of the coins were older, you can tell by the pics, and by older I mean they were corroded. Did find a recently dropped 1939 Lincoln. Interesting. Weather was perfect, so I figured I'd go down to the FAR end of the beach where I only go once or twice a year.
As I was starting down to that point, I found a coin spill, or something similar. About 8 coins in a 10' x 10' area, mostly new drops. And found a golden colored arcade token, the kind with eagle on it. It was with two shiny pennies and a quarter in the scoop so I didn't take a second glance at the "token" until I had gotten home.
In the meantime, In the pouch with the "token", go the sinkers, fishhooks, pulltabs, bottle caps, and a total of 35 coins, sunglasses, ad nauseum.
Late in the hunt, I decided to "tune up" the Deus to "kill" mode. I was detecting "dry beach" at a frequency of 14.4 and bumped it to 28.8. Picked up some tiny split shot and broken barrell swivels. All go in the pouch with the POS golden "token".
About 50 feet later I got a decent but deep signal. I dig it, and the dumb thing slips through the holes in the scoop. It was the top half of a 14k gold ring. Half? Come on already! Well, here's the picture.
I now go back to where the fishermen spend a lot of time, and sinker heaven awaits me. Yes, the meat of the story is coming! I found more sinkers and HALF of a man's tungsten ring! Come on! Half! It's on the left top of this picture. Also pictured is my loose screw.
View attachment IMG_0466.jpg
So I keep digging but the cat's getting tired. Here's some of the stuff.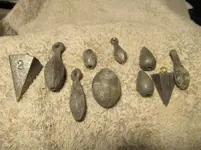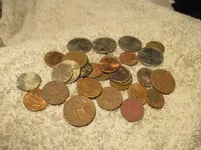 So, on the way back I dig out the 14k ring and drop it at the jewelers. It is 14k, not worth much of anything but I'm having it restored JUST BECAUSE. Having a red garnet set in it. I'll have it back in about two weeks. They must have thought I was nuts, but did learn one thing - tungsten rings, while tough, are brittle and will easily break in half.
THEN, I finally get home and start sorting. I set aside the driftwood and the seaglass, and chuck out the aluminum cans, the plastic lures, the sunglasses, the swimming goggles and dump out, actually,
unceremoniously
dump out the coins and the "golden token".
Then I got my glasses out. Note to self: do not assume you have an arcade token when you detect a gold colored coin, and TAKE YOUR GLASSES WITH YOU WHEN YOU DETECT. The token DID feel kind of heavy. Not corroded either. So, FINALLY with the glasses on I actually LOOK at the thing. It is a 1905 $5 US gold coin. I think I almost needed to change my clothes. And it looks like it was lost YESTERDAY, IF that long ago. And on the beach?
At this point I'm having a fit. THE BEACH? Now it is scratched up quite a bit, has it's share of dings and scratched and worn flat spots on it. But the BEACH

??
Best assumption is someone had this in a screw closure pendant and the thing came out. Very recently, or I or someone else would have found it last weekend when there were several of us detecting that stretch of beach.
So I had a cow. A BIG cow. Upon close examination I can see some damage around the rim, like it was clamped in one of those little screw coin clamps.
I am still playing with it. While this is my first US gold coin, it is my third gold coin found since 2013. I dig a LOT.
First gold coin was a 1774 English Gold Guinea found at Coin Beach, Delaware after Hurricane Sandy in 2013. It was ON TOP of the sand.
Second was the ugliest thing ever. A 1945 Mexican coin found on another beach in 2016.
I think you're supposed to find gold coins in the DIRT. I do dig a lot of historic sites, but can't seem to find many coins there with the exception of English and early American coppers, but no state coppers except one Virginia Halfpenny found a very, very long time ago. Well, for me, it's a sandy kind of deal.
I'm not excited but almost forgot to post the picture of the coin! The thing is in amazing condition. I don't think the picture shows it well, but there are worn high spots, especially on the face, looks like someone liked to rub it, best guess.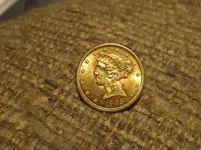 View attachment IMG_0459.jpg