Jun 4, 2020
121
123
Primary Interest:

Other
For your consideration.
Another Native American Relic of questionable origin. I purchased this about the time I acquired the now infamous steatite Rattlesnake Gorget. In my defense, I haven't fallen victim to any additional impulse buys to date...lol
If this wasn't made by a Native American, what could it be? It was once displayed in a now defunct museum sometime in the late 19th century. Perhaps nothing more than a facsimile created for display?
I've had this item appraised by an academic at the University of Pennsylvania who specializes in Eastern Woodland Indian culture and artifacts. As follows, here is her evaluation of my apparently not so "important" and "valuable" Peace Pipe! However, I never accept one opinion, regardless of their credentials.
BEGIN EVALUATION:
"Having looked carefully at the photographs you sent, I do not believe this pipe is a valuable authentic artifact. The pipe is very crudely carved, the sinew is very crudely twisted around the bowl, and the wooden stem is far newer than the stone bowl. Taken together, all of the component parts do not a appear to fit together well or tightly enough to even function as a pipe.
If asked to guess, I would suspect that this entire assemblage was cobbled together for some amateur purpose, perhaps in some kind of show, or play, or other act of "playing Indian."
The bowl may be old, but if so, it is the poorest example of steatite pipe carving that I have ever seen. The museum tag is not helpful in establishing age or ethnicity or authenticity. So, in sum, it is likely an antique "fake repro" of an Eastern Woodlands pipe."
END EVALUATION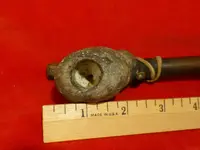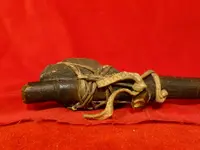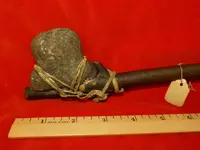 Best regards,
JG