Jun 4, 2009
3,215
2,888
Primary Interest:

Other
I got into the habit, years ago, of leaving a few artifacts lying out where I sit in the living room. When nothing else is going on, I'll pick one up and take a closer look at it, to see if it really is what it seems to be, or if there's anything about it I hadn't noticed that might be significant.
That was the case just now with this little biface that was part of the neumanman bombing. At first glance, either a little knife, or a point preform (pretty much the same either way).
But the plot sickens : one face shows an overshot flake, and the other side looks like it was prepared with two guide flakes for a flute (Enterline technique). These flank an earlier one knapped from the center. Unfinished Paleo ?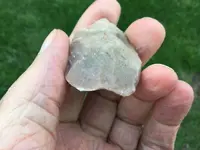 Last edited: