Gold Member

Excited enough I need a tranquilizer. I just got a new to me but used Tesoro Tejon. It was priced right so I said what the heck. I went to my new permission and figured out which end to blow on, har har har. Anyway, it's a Civil War 1864 site in Virginia. Switched loops, put the big loop on it and started beating bushes. Wasn't getting much, I mean like NO signals. So By the end of the day I had tried several different strategies. First was just wander around in the woods. Got a couple pieces of iron from ration cans and some nails. This time I did NOT trip over the wire fence.
Second strategy was to do some "tree and sticker bush bumping". The English translation is to go real close to all the trees with the loop and same thing for briars (go right through them), and see if anyone there previously left anything. Well, got some more iron and half a horseshoe.
Third strategy was to explore this here rock pile. Got a couple iffy signals. Dug down a few inches and about 8 inches down picked up a layer of ash! Fire pit! Nails, a kepi buckle in brass, melted lead, a very pretty small porcelain button, an iron underwear button, most of a bullseye canteen in parts and FIVE eagle buttons in perfect condition with shanks. Well, that made my day. It was getting a little late, so I carefully filled in the hole and started "tree bumping again". Got a very nice nearly complete CW flat tin can, whoopee. I haven't gotten everything out of the bucket yet.
But then.....headed back to the truck. Got a signal right next to the road (it's a private gravel road) and pulled out my FIRST (and probably only and last) CSA plate. It's very much like the one posted here a few weeks ago. Has the same kind of weird hooks on the back-at least weird to me. Looks like a Virginia Arsenal and looks most like Mullinax's #108. I now have a massive stress headache. Too much excitement.
Three plates in 2016! Who would have thought it! (Also found what may be a small meteorite, but I have to check it out.) Got so excited I left it in the truck. Sorry about the pics, haven't had time to wash anything up yet. Took the pieces to a well known Virginia CW dealer to look at and he advised me not to wash the buttons, but when they were totally dry to flick the dirt off with my fingernail. HE said that way the eagles and shield would stand out much better. I told him I was going to clean the buckle, looks like a rich green patina under the red dirt, but he suggested not touching it at all.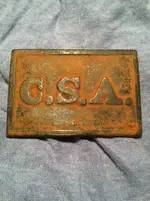 As you can see I was wiping the high spots on the plate. The color in the photo is a little off, it's a little too bright. Took it with the cell phone. Need a tranquilizer.