Oct 28, 2018
31
508
🥇 Banner finds
🏆 Honorable Mentions:
Detector(s) used

AT Pro
Primary Interest:

All Treasure Hunting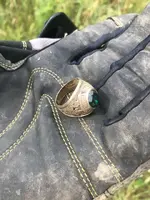 So on Saturday I went out with Cheffer to some open public land two town away from us. We did not find much, but then I got an 81 on my ORX, dug the plug and down 3 inches was this mans class ring. We noticed that it was from a high school that we are aware of in our county and it was the class of 1966.
When I got home I could see initials in it, I tried to look up the year book from that year on line but had no luck, then I thought I would try and call the school but thinking they would be closed for the summer, to my amazement the superintendent of the school answered. I explained why I was calling to try and find the owner of the ring and hope he was still alive or may be a relative He said that he would do some research and get back to me.
So the superintendent call back and told me that not only was the owner still alive but he lives in you city and is waiting for your call.
So as of 4 pm today, ring retuned, he was thrilled. He told me that he wore it everyday but about 4 years ago he lost it while hiking and thought he would never see it again, we chatted for about an hour, nice guy.