Hero Member

Jan 27, 2015
961
3,324
🏆 Honorable Mentions:
Detector(s) used

Minelab Equinox 800
XP Deus 2
Primary Interest:

Metal Detecting
Hi everyone. Last month I was detecting at an old sports field that is located on private property (with permission, of course). I posted about the results here:
http://www.treasurenet.com/forums/t...-class-ring-millard-fillmore-token-other.html
In the post I mentioned finding a class ring,
and I'm very proud to say that after about 6 weeks of hard work I've finally reunited the owner with her lost ring!
And now for the rest of the story...
As I mentioned in the post back in May I was digging any target that was repeatable that day, and I ended up digging a lot of pull tabs and bottle caps. I was as surprised as anyone would be to see the ring - and not another pull tab - come out of its hole, which was on the sidelines of an old soccer/lacrosse field. The ring itself is from the Class of 1983 and made of 10k gold with a clear stone, and now I can disclose that the school is Wardlow + Hartridge (W+H) - a private school in Edison, NJ. Their lacrosse team was the "visitors" for that match back in 1983.
After cleaning off the ring I found something very exciting (as if the ring itself wasn't enough):
the ring had a name engraved on the inside of the band.
I immediately wondered if I could reunite the owner with their ring.
With the school's name, graduation year and the owner's name there was no mystery around who the ring originally belonged to.
Making contact with the owner - who I will call Ms. D - was the real challenge.
At home with the ring I quickly found the W+H Alumni Association's points of contact. I sent them an email that explained the situation, provided my contact information, and I asked for their help in contacting Ms. D. I also searched Facebook for Ms. D, but her name is rather common and I couldn't find her specific profile. I did, however, make contact with a friend of hers from W+H, and that friend was instrumental in helping me reach out directly to Ms. D.
But I never got a call from Ms. D
, and she did not respond to messages for almost 4 weeks. I was very worried that a reunion wouldn't happen.
When I got a message from Ms. D last week I learned what caused a delay in her returning my messages: some years ago Ms. D suffered a serious stroke, which left her unable to talk on the phone - but fortunately she can still type. By exchanging messages on Facebook I explained how and where I had found the ring, and she gave me her contact information and mailing address.
I'll admit that I was a little hesitant to ship the ring off - but I did it anyway.
I put it into a UPS envelop, handed it to the guy at the store, and Ms. D let me know a few days later that she had received the ring, and I breathed a sigh of relief - the ring was reunited with its owner after almost 40 years in the ground!
Pictured below is the ring and also a screen shot of Ms. D's Facebook post after receiving her ring and some of our messages back and forth. (I believe she uses the Emoji because she prefers that to pictures of herself after the stroke.)
- Brian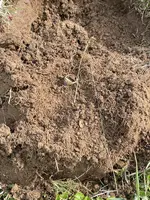 Ms. D's Facebook post after she received the ring: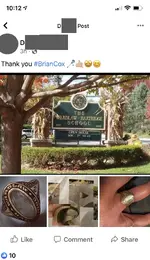 And some of our messages: