Apr 5, 2015
90
125
Detector(s) used

Garrett At Pro
Garrett Pro Pointer
Primary Interest:

Metal Detecting
Metal Detected "Maxwell Pitch" today and last weekend, one of the earliest structures remaining from the original toll road up into the mountains (1865). 11 miles from Boulder Colorado. Part of the historic "Switzerland Trail"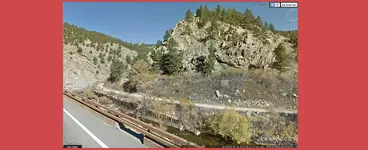 PLEASE HELP ME IDENTIFY!!!
Found this emblem , appears to be person riding horse inside of horseshoe with fence in background? Back of emblem depressed leading me to believe it broke off of something and is not a token or coin. It is very heavy and does not seem like it would be a piece to a top of a bottle. Maybe off of a toy? Found near bike trail that used to be old railroad/stage coach road!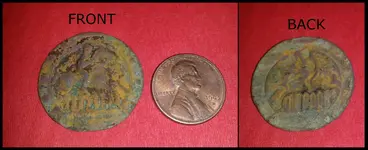 PLEASE HELP IDENTIFY!!
Scanned metal detector up and down side of mountains. Also hiked up in a far away remote area. Very hard work. Slipped and fell in cactus patch and spent 20 minutes pulling needles out of hands! Found lots of old bullets. This area was turned into a park in the 1950's so nobody been animal hunting up there for a while, so most of the bullets I find I assume will be old. Would really like more information on the bottom center bullet.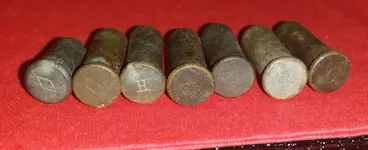 Very new to metal detecting. (first month, first post) Difficult to find untapped historical places in a big city like Denver. Alot of trash. Would really like any information at all on these finds. Thank you for your time! -Malcolm