Jul 9, 2014
186
395
Detector(s) used

Garrett Ace 400, Garret Carrot, Recently retired Bounty Hunter Quicksilver
Primary Interest:

All Treasure Hunting
Sweet River Finds (day 3) (1st Dandy button and Eagle Cuff button)
Sorry a little repetitive lately but the river is producing. Have been trying to get out since the weather is going to be bad tomorrow. Mostly relics again today but did find a 1919 wheatie and some buttons. Most of the buttons were dug out of the cracks in the big flat bedrock.
Found 3 buttons (I think the large one may be a dandy button)
Found a nice military button. Appears to be a general service eagle cuff button. But it's the chicken eagle type which is slightly post Civil War. The back is gone and rusted out but some gold gild left on the edges. The third is a typical civilian flat gilded flat button. Love finding buttons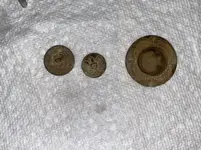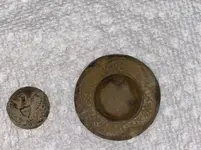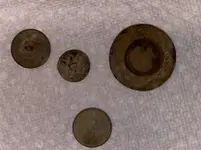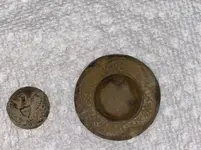 Found another lock. 4 there in the last 3 days, this one isn't as old but I'll take it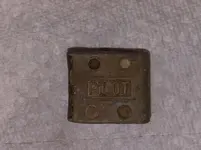 Also what looks like an old comb piece. Long 4-5 inch, pewter or lead. Has alternating knobs on the shank. Each end is tapered. Odd piece. Not sure if the pictures will turn out.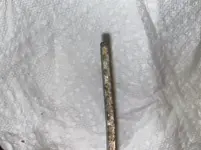 Found an old lighter (like a zippo type)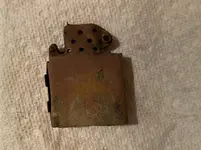 Some old spoons, one is just a piece of a handle but looks silver. The spoon is really toastie but neat.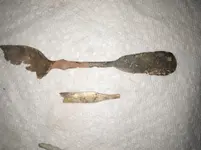 A shot musket-ball (or small caliber round ball) and a small caliber dropped bullet. Not sure of age. Does have ring(s) at the bottom and cupped inside.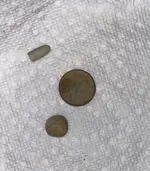 Another harmonica reed piece.
Odd copper/brass piece. Maybe a gun grip butt piece. Not sure. Going to research it some.
And a circle piece. Thought it was a cap gun piece but it's heavier, brass or copper. Almost like a gear.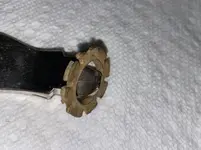 Last edited: