Oct 17, 2012
3,960
6,044
Detector(s) used

White's Spectrum XLT
Primary Interest:

All Treasure Hunting
I was talking about this map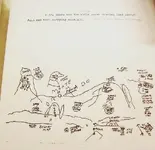 In this map are mixed some clues which lead to treasure with the Perfil mapa. Mountain of Coronado, Eagle Head and King Royal ( fifth? ) are names which don't fit with what represent the Perfil mapa.
Had Adolph Ruth clues to Spanish treasure in the Superstitions? IMO he had. And I can explain why. From what I can see in the map, he knew about at least two treasure spots in the " Coronado " Mt., but I will write only about the Eagle Head place. Only the treasure at the Eagle Head landmark is close to the canyon floor, and I believe Ruth was looking for a Spanish sign/landmark which would show him he was close to the treasure. IMO, first he shoud find a pile of rocks about 39 feet/steps from the water in the canyon and then he should look up to see the rock which is a reproduction of the Eagle Head landmark. From that rock the mine is about 69 feet/steps away up on the mountainside and below the natural Eagle Head landmark.
I believe this spot was described also in the Richard Harmond map, and is the place which was found also by a group of treasure hunters in the 40's and by Ray Diamond few years later.
Here I have to say how the Eagle Head is only the half part ( the right side as you are looking from across the canyon ) of that mountain outcroping because the left half resembles a right side of a skull. I have read somewhere about a map which depicts a skull, and the description of the map made by the person who has seen it goes like this:
" The map as I remember it didn't have any known landmarks on it except for a flat butte.Towards the center was a drawing of the left side of a skull lying on its back side, from the eye of the skull a scroll line encircled the eye to the right and then to the throat, at the base of the throat were many crosses, on the side of the skull to the right of the eye, written perpendicular was the word MINA.
Further left of the skull in a canyon and below the cliff of the flat butte was a dark spot, below the spot was written Geronimo cueva."
I post two aerial images to see the Skull and the Eagle Head landmarks, the sign/reproduction of the eagle head ( in the blue circle ) and the mine spot with yellow ( dot and circle ).
View attachment 1794527
I know, I wrote Jesuit treasure, not because they produced that gold in the Eagle Head spot ( nor took something from there ) but because they found it and marked it with their mark, the Holy Cup. Is the mark which the guys who found it in the 40's described it like " a hourglass with one chamber upon the other ".
Last edited: