Jan 28, 2005
2,913
7,820
Detector(s) used

ONES THAT GO BEEP! :-)
Primary Interest:

Other
Gidday amigos
Out of all the Templar treasure legends. The following story is an intriguing one. Is there any truth to the following tale or is it a latter day lost Templar treasure fantasy?
Hardly known by English speaking aficionados of all things Templar. The yarn has revived little interest from pseudo quasi historians outside of France.
Mainly because I do think there has been a written English version of story behind the this amazing Templar site.
So my apologies in advance with the English translation of the story.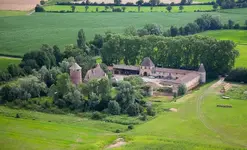 Today the property is privately owned with a working farm next a 15th century chateau hunting lodge built upon the ruins of 12 century Templar Fortress that was one belonged to one of the most ardent Templar knights who died defending the siege of Acres.
The place looks almost lost and forgotten in the sleepy rural French countryside.
Regardless the site has an amazing history.
Crow
Last edited: