Gold Member

It's going to be hard to figure out where to start on this one. Keep reading, this is awesome. I was digging a park yesterday, watching the folks walk their dogs, and the kids playing on the swing sets and after about the 50th dig, with about 25 coins, including 2 wheaties and a buffalo I got bored. So I decided to go aways' north to a farm I have detected before, that does have some old stuff on it. It has been pounded, mainly by me, but I decided to hit a few harder to get to spots. Which proved wise. I walked 5 feet from the car, and balanced the machine. Walked six steps and got a decent signal, like a dime signal. Out popped a splash of gold. No, not a gold coin. But even dirt encrusted, I could see it was a Civil War type domed button. Dug a little more before I had to leave to go see the accountant, taxes are done, but got 1 more flat button and 2 modern dimes, and was so curious about the button I just had to get out of there and get home and get it cleaned.
What the cleaning revealed turns out to be
ONE OF A KIND
ultra rare button, used by Confederates in the Civil War. It is a St. Timothy's Hall button.
St. Timothy's Hall
was a military school in Catonsville, Maryland started in the 1830's and it burned in 1872, it never reopened as a military school.
It is best known due to
alumni John Wilkes Booth
, who did attend for a time 1852-1853. Booth, if you remember your history, assassinated
President Abraham Lincoln
in April of 1865. Another
alumni, Samuel Arnold
, was convicted of conspiracy in the murder and went to prison for it.
Maryland was a very divided state during the Civil War, and this particular school had a strong southern bend. While the headmaster was a strict abolitionist, the school body leaned strongly to the south, and it was reported when each southern state seceded from the union, the student body cheered and fired the cannon in salute to that rebellious state.
The school gave the
Confederate Army General Fitzhugh Lee
, another alumni and
General Steven Elliott
, among many, many other soldiers.
Professional button collectors consider this a true southern school button. The button itself is intact. Whew! Alphaeus Albert's "Record of American Uniform and Historical Buttons", Bicentennial Edition lists it as SU378 on pages 342 and 343. It lists its backmark as "Scovills & Co. Superfine".
This button does NOT HAVE THAT BACKMARK.
It has the "Waterbury Button Co.**" which was used exclusively 1861-1865.
This backmark has NEVER BEFORE BEEN REPORTED ON THIS BUTTON.

So, for now, the button is UNIQUE. This backmark is pictured in McGuinn and Bazelon's "American Military Button Makers and Dealers; & Dates" figure 21, in the appendix. It's the 1861-1865 mark.
I confirmed the information with one of the largest Confederate Memorabilia dealers in the nation, who I have known for years, and he confirms the designation as not only a Southern used button, but one with a unique backmark.
The site was along the route some of Jeb Stuart's cavalry used during the Gettysburg Campaign. One of the alumni probably lost it on the raid from Hanover, though York down into Maryland. What a ride for the little guy!
Digging a Confederate button is no easy task these days, but digging a UNIQUE button is mind blowing. I have not fully cleaned the back yet, and the mark is somewhat weak, until I get it cleaned up a little better.
I am excited.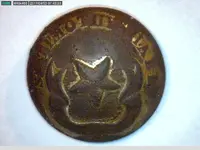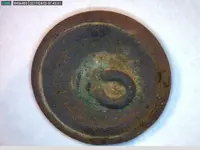 Last edited: