Jan 29, 2018
871
1,348
Detector(s) used

Equinox 800, 6" coil, stock coil, Coiltek 10 x 5 Nox, ProFind-35 pinpointer, Simplex(sold), Vanquish 540(sold), Vanquish 44. sold: AT Pro with stock coil, Nel Thunder, Garrett 5" x 8" coil, Garrett C
Primary Interest:

Relic Hunting
What do you think these are? I found these near an old bridge over the Chattahoochee river that was fought over by the union and confederate soldiers in the campaign to take Atlanta.
My shovel scrapped one of the and below the tarnish looks like shiny brass. The fragments are about 1/8? thick. The coin in the picture for size reference is a dime.
I really don?t think these are shell fragments since the small battle for the bridge involved cavalry units. But just in case, I am posting it to see if anyone can id these fragments. Found them along 100 yards of trail about 20 yards from each other up the trail.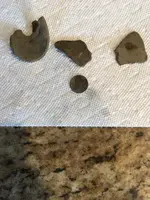 Last edited: