Feb 28, 2007
463
59
🏆 Honorable Mentions:
Detector(s) used

Fisher F75 - Whites PI Pro, Excal 1000
Primary Interest:

All Treasure Hunting
OK, yes, I'm still looking for the $370,000 ring.
I still didn't find it, so you can let out your breath now.
There were a couple of other guys water hunting from St. Cloud, can't remember their handles, hopefully, they will reply.
Water was a little rough, started way out past waist high water and didn't get any signals. Moved in closer to the shore and found one pocket that had about 5 targets.
One of the targets was this ring. It has the numbers 1951 on the front and an inscription inside. I'm not showing the inscription so I can try and find the owner.
Found this ring right where the sand starts to dip down to the deeper water near shore.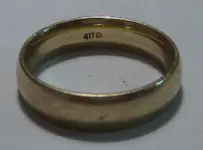 Also found this interesting earring. It has some substantial weight to it, but I can't find any markings.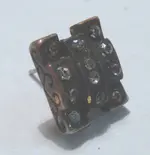 Thanks, Jack