May 11, 2019
193
646
Detector(s) used

garrett at max, bounty hunter
Primary Interest:

All Treasure Hunting
Only had a 2 hour hunt between rain and graduation parties found 3 indian's 1902,1903,1905 and a gold ring.
The gold ring rang up at 45-46 on my at max at 8 inchs i buried the shovel popped out the the plug and there it was starring at me pretty as could be. All 4 items were in the front yard about 30 ft square area.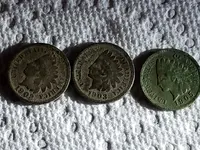 Lots of yard left to go this was my 2nd trip to the farm. cost me 3 bottles of home made wine to get in there.

​