Mar 6, 2014
9,204
14,015
🥇 Banner finds
Detector(s) used

Minelab CTX 3030 & XP Deus
Primary Interest:

Other
Me and my buddies Eastcoast hunter and Bart got out for a hunt. A real beat up place that'll reward you if you try hard enough. I'm right in a spot overlooking a stream and I get clunky mid-signal.
What I uncovered blew my mind. First I saw the eagle and the corroded edges and, having dug a few, I knew it was an old counterfeit. I was thinking it's a counter Mexican 8. My buddy Charlie cleaned it I and we were floored. Never have I seen a trade dollar, much less a counterfeit one!
I've dug some great old and real silver in my life, so I really appreciate a contemporary counterfeit when I find one. So enjoy, I've never seen or heard of one found, and this one cleaned up beautifully.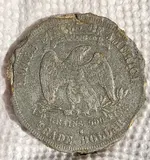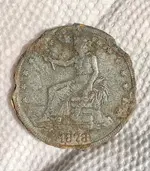 Good hunts,
Steve
Last edited: