Apr 18, 2014
98
229
Detector(s) used

Garrett Ace 250
Primary Interest:

All Treasure Hunting
Yesterday I went on a walk to the public creek just down the road from my house. It was a very low tide so I decided to walk the shoreline and see what I could find. I ended up finding a couple of cool things from one of multiple sites where I believe there are old dump/wash-up sites.
The finds together: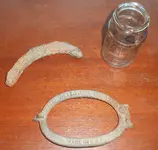 This is an old Hazel-Atlas glass mustard/preserve bottle that may be as old as the 20s but likely dates somewhere around the 30s-50s: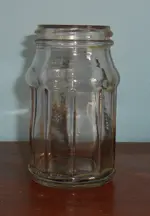 Part of an old horseshoe if I ever saw one (this would be my first horseshoe partial or complete):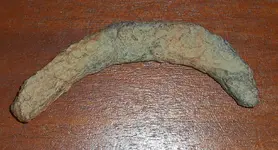 Finally, a metal frame (with a hinge?) marked "THE MILLER HEATER - MADE IN USA" that very likely was once part of an old Victorian-era kerosene heater made by the Edward Miller Co. (manufacturer of lamps and heaters) around the turn of the century give or take a couple decades: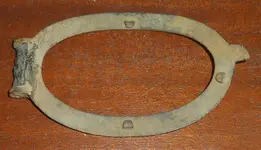 I hope you enjoyed seeing these couple of nice finds and I wish you all the best luck today on this Easter/April Fools' Day!