Got a few more rings but havnt got in too much because of work....got in at my small swim hole 2 times for 3 rings a charm and a couple earrings.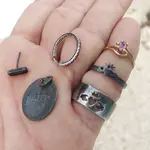 Small 10k ring, small 18k white gold earring, 2 silver cladaugh rings, a silver "FAITH" charm, and a small puravida 925 earring !! Back to diving for spanish galleons tomorrow!!
Happy hunting folks !!