Jul 9, 2014
186
395
Detector(s) used

Garrett Ace 400, Garret Carrot, Recently retired Bounty Hunter Quicksilver
Primary Interest:

All Treasure Hunting
Got out early today, back on the river before it got hot.
Amazed with the things I'm still finding. Most are toastie now but I still consider them decent relics. The area I've mainly been working in is only about 30 yards. It's starting to get a little thin but I can move up river a lot more.
Best finds were a couple of buckles. One has a monogrammed K in the middle. Almost looks like it's Victorian. Might post it on the What Is It. Can't find one like it. The other is the outer ring for an older buckle. Maybe an old shoe buckle... Both of these actually came out of the river bed, about a foot deep.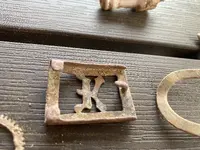 Found some more spoon handles, toastie but appear old.
Some more buck shot and case shot, one looks to be drilled or fired and damaged. I've read some were drilled when they drilled and put the fuse in.
Also found a neat old toy airplane (well most of it)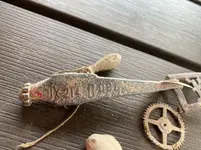 You'll also see the glass fragment. I know they're pieces of broken bottles but I've been seeing neat embossing. Some appear to be from types like the old snake oil or patent medicines. They're older with a lot of bubbles in the glass. The one pictured here says "Chamberlains Colic And Diarrhoea Remedy" (I know Diarrhea is spelled wrong, that's how it's spelled on the bottle). Might start keeping some of these. Might make a display case just for these.
Last edited: