May 11, 2017
655
1,909
Primary Interest:

All Treasure Hunting
Ahhhhh, it's my first hunt of the year!
10 minutes in...
SNAP!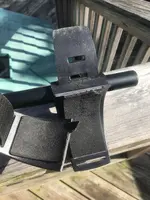 Ah, well. It happens. Happened to my Garrett and now it happened to my Nox800. Maybe I can buy a stronger after-market cuff, as I did with my AT-Pro? Whatever. Hey, I go hard on things. What kind of life are you living if you can't break sh*t now and then?
Ever hunt with a broken forearm support? It's really not fun! Messes up your swing. But the day was beautiful and so I kept on going, at least for a little while.
15 minutes later, I'm running a long line, trying to keep straight by using a discarded can off in the distance. Normally I don't deal with any garbage I didn't dig myself, but it's a can, so when I get to it I pick it up.
A few steps after that, I hit a 30-31 target. Steady as hell from every direction, but DEEP. Way deep. Maxed out my 800's depth-meter on every swing, which is good now after the software upgrade.
If this is my first ever barber quarter,
I tell myself,
then I know the metal detecting gods are smiling on me.
So I dig a nice wide plug, and sure enough...
NICE! I even broke into the 1800's with it!
So yeah, what's the recipe for getting the grey/stain off this thing? Baking soda/tin foil/salt/boiling water? I don't need to turn the
whole
thing silver, but I'd like to at least get the sludge off the higher points. Kinda like my first barber dime, which just rubbed beautifully clean for the most part: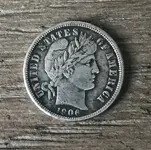 UPDATE:
Here it is fully cleaned, and after I spent all last night rubbing it lovingly between my fingers while watching television.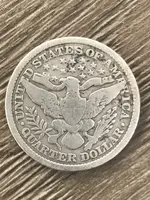 Thanks in advance for the advice! GL and HH!
Last edited: