May 11, 2019
193
646
Detector(s) used

garrett at max, bounty hunter
Primary Interest:

All Treasure Hunting
Went to a private property today on a local lake where there used to be a dance hall, found 11 coins in one hole all clad i wasn't impressed that they were all clad but the owners 3 young boy's thought it was pretty cool to find all those coins. Moving on to a large tree in the yard i found a bucket lister i guess i hadn't ever thought of finding a 1920-30's condom wrapper/container but i found one. I handed it to the property owner and he did a google search to find out what it was we had a good laugh, here it is as it came out of the ground.
Here it is cleaned up
here are all keepers from today. Best coin was a 1946 wheat leaf.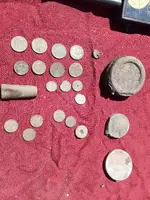 These are from last week hunt a 1950 hong kong 10 cent piece and a 925 mexican silver ring.