May 3, 2021
84
91
Detector(s) used

I've used a Fisher Gold Bug II, though now I have a cheaper Garrett model.
Primary Interest:

All Treasure Hunting
Note; This is not material suitable for simple crushing & panning due to heavy sulfides. If you aren't into refining at all, then it isn't probably for you. But message me for questions nonetheless. They do make for pretty stones anyway.
I also can't get the picture uploader to work. You can see the same ad here ------> with photos!
https://goldrefiningforum.com/phpBB3/viewtopic.php?f=58&t=29888
chlorargyrite
Chlorargyrite is the mineral form of silver chloride (AgCl).
https://en.wikipedia.org/wiki/Chlorargyrite
Colourless (fresh); bright chartreuse-green, light yellow, light green, grey; becoming violet-brown on exposure to light. Learn more here---->
https://www.mindat.org/min-1014.html
If you're interested in trying out some Chlorargyrite ore for processing & refining, I can supply 1/4 to 20 mesh fairly quickly. All these ore pics you see, came from the same "mother" stone that was around 65 lbs. It is in the pictures and labeled as such.
The rest of the stone is with a refinier who is a member of this forum. We're going a little slower because crushing it to a fine powder does take awhile at first. We're working on it!
we can do a pro-ration deal from then out. One involving percentages and you the refiner/s won't have to put up a bunch of money to me for good stuff. By selling this last bit, I can fill the tank up to get more! It's summer. If you all put me to work, then I'll do the same for you. If you don't at least make your money back on the ore, I will send more at cost of shipping only. The spot I'm getting it is unclaimed on Federal land, where panning is allowed. And last I checked there's no restrictions on panning 40 lb stones eh? Lol. As for testing in the field, I have those necessary skills and tools at my disposal. As for payment types, absolutely no Paypal. Cashapp, and bankwire to Alaska are good. Money Orders and checks are fine too. Just message me via email or text/call me for address details.
The yellow/orange pieces have visible gold in the -150 to -300 mesh size range. The visible metal you see isn't pyrite, though there are obviously sulfites in it. That has only come about by me using a lot of vinegar soaking to remove tarnish. Also I've used Tarn-x, and Hydrogen Peroxide. More appears and it doesn't discolor, nor lose it's "metal" look when dried or in different shades of light. Several key details that differentiate this from mere "micah" or Arseno Pyrite or something like that.
I've heated a number of these ore pieces up very hot, and thrown in ice cold water. It can take up to five minutes to be able to grab out of water with bare hands. Silver and gold are two of the best heat and electricity conductors on the globe. With Silver at #1! If you heat up iron, it'll get really hot, but won't stay hot like that in cold water.
http://www.treasurenet.com/forums/attachment.php?attachmentid=1930375&stc=1&thumb=1&d=1623140666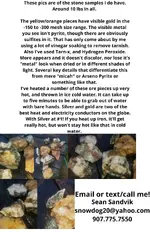 Email or text/call me!
Sean Sandvik
snowdog20@yahoo.com
907.775.7550
Last edited: