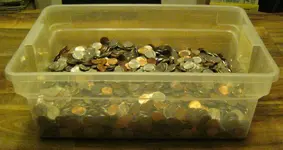 My best friend just unloaded 2+ years of her family's change on me. Couldn't be more excited about what I'll find.
Can you guess what the final total will be? "The Price is Right" rules apply ---> closest without going over wins the prize.
Prize? Yup. Winner gets the 1936 buffalo nickel I found last week at the casino. You guess the amount within 25 cents (without going over) and I'll throw in a 40% Kennedy half. One guess per person. Minimum ten contestants to make this a fair contest. Container is 14" long, 10" wide with just under 3" of coins. Get those guesses in!
Non-prize, just-for-fun guesses:
Oldest coin?
Any silver?
Any W quarters?
Any foreign countries?