Feb 11, 2015
1,968
3,144
🏆 Honorable Mentions:
Detector(s) used

Tesoro Compadre, Tesoro Vaquero, Garrett Pro-Pointer
Primary Interest:

All Treasure Hunting
Been itching to get out with the 600. I only had a few opportunities last season to poke a round with it and really haven't a clue what it may be trying to tell me. Today, I went over an old front yard permission for about an hour..........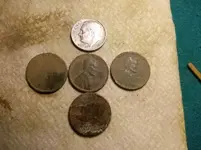 I was concentrating on deep, high, faint tones. The yard gave up 10 cents that were 8 to 10" down. I think I may have coppers figured out........
The Flying Eagle was a shocker.......sure wish it had a date!!
Thanks for lookin' in and good luck on all your hunts!!