Oct 23, 2006
5,237
1,017
🥇 Banner finds
Detector(s) used

Minelab Equinox 800, Excalibur 1000/II (hybrid) , Teknetics T2 SE
Primary Interest:

Other
Firmin & Langdale Livery(?) Button: IDENTIFIED 12/25!
UPDATE 12/25: FAMILY CREST IDENTIFIED! (SEE REPLIES FOR UPDATE!)
One of my favorite sites had a new section cleared out recently, so I was anxious to get to parts that were previously overgrown with my T2 SE. Unfortunately, even though it was cleared out, there is stubble everywhere so it is really difficult to swing the coil. I tried Boost mode and some of the other settings, but the coil sounded off whenever I bumped the stalks.
After experimenting with some settings I decided to give All Metal a try. I didn't realize that the display still shows ID numbers while in this mode, so it is kind of a "mixed mode" of All Metal audio and Discriminate display. This setting really worked well and had a good feel. I was able to easily tell false signals from real ones and the detector was super sensitive even with the coil several inches off the ground.
I dug a bunch of buttons but the best one by far was the Firmin & Langdale button. The word "THROUGH" appears on the front of the button over the crown/below the tree. I am assuming it is a livery button of some type but I may be mistaken, so help is appreciated with the ID. I could not find the specific backmark of "FIRMIN & LANGDALE / STRAND" on any other button. Strand is the address of F&L, but all other backmarks from the manufacturer have "53 STRAND" .
In total I found 10 buttons in a couple of hours, not too shabby for a "hunted out" site! The other button pictured has a BM reading "SUPERFINE/ STRONG/LONDON"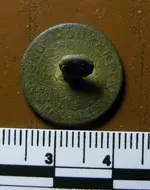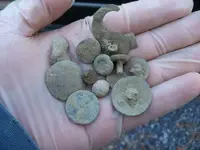 PS: I have been detecting this site for more than 7 years, and each find is unique. It is a relatively small site, maybe 20 acres of land. The buttons include early US and British military buttons. Many other types of British buttons have been found there too, mostly civilian but also a customs officer's button from the same era. The majority of the finds range from around 1810-1830. It seems as if there may have been an undocumented tavern at the site or it was just heavily traveled or was some type of commerce center.
Last edited: