Check your local library to see if they have these books or get them through the interlibrary exchange.
Encyclopedia of Buried Treasure (The Blue Book of Treasure Hunting)
Karl von Mueller
Copyright 1965
Weeping Water, NE: Exanimo Press
Soft cover, viii + 88 pages
Library of Congress Catalog Card No. 65-15681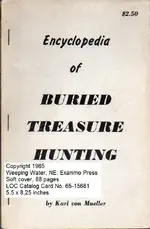 The Good: This book contains abundant definitions of treasure-related and mining term. If you are familiar
with the treasure leads in the Treasure Hunter's Manual, you will find the same short comments (couple of sentences)
on a lot of treasure stories. I did not count, but it seems that there are well over 200 treasures described in this book.
Typical example: "
Arroyo Hondo Treasure: Several caches of Mexican & U.S. money have been found around
Turley's Mill a few miles W of Arroyo, N.M. An old whisky barrel was dug up in June 1954 & it contained over
60 Mexican gold planchets. Simon Turley ran a mill & distillery here during the 1830s, 1840s, & 1850s.
The 1964 discovery was not the first, nor will it be the last.
" The stories of recovered treasures are helpful to decide
whether to proceed on a treasure lead. The Bad: The names and addresses of just about everything (equipment
manufacturers, dealers, clubs, etc.) are completely obsolete.
1200 Treasure Books: A Bibliography
Jesse E. Rascoe (Ed Bartholomew)
Copyright 1970
Fort Davis, TX: Frontier Book Co.
Soft cover, 62 pages
5.625 x 8.5 inches
The author states that the books are either treasure hunting related, historical information, and some of unknown
treasure-related content (?). It is primarily a list, alphabetically by author last name, with the name of the book,
location it was printed, date published, and number of pages. A small number of citations contain a very brief
comment in parentheses. Not really a must-have book.
Treasure Trove: An Annotated Bibliography of Books Concerning Sunken Gold, Lost Mines, and Buried Treasure
Copyright 1974
Robert L. Underbrink
Carlinville, IL: Lamplighter Press
Approx. 96 pages
Library of Congress Catalog Card No. 74-80123
I found this book at the library and did not get a photograph of the book cover or record some other data.
Some library books are rebound, replacing the original soft cover with a hard cover. Part one of the book contains
Seven Brief Treasure Sketches
: Lutine Treasure, Lobengula Treasure, Treasure off Pondoland, Beale Treasure,
Auckland Islands Treasure, Treasure of Dongo, Plate Fleet in Vigo Bay. Part two includes reviews of over 160 books
related to sunken and buried treasure. Other sections of the book contain a list of selected magazine articles dating
from the 1940s to the early 1970s, and a list of sunken Spanish Treasure ships.
Wild & Woolly: An Encyclopedia of the Old West
Denis McLoughlin
Copyright 1975
Garden City: Doubleday & Company, Inc.
Hard cover, 570 pages
ISBN 0-385-00237-8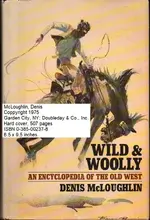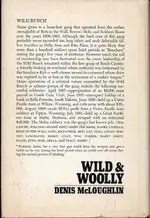 From the dust jacket: "
In short, a veritable who, what, and where of the American West with listings that give the
real lowdown on this epic era.
" The back of the book shows the description of the Wild Bunch. The book includes
short descriptions of some forts and lost mines.
The Journals of El Dorado: Being a Descriptive Bibliography on Treasure and Subjects Pertaining Thereto.
A Waybill to Discovery and Adventure.
Estee Conatser and Karl von Mueller
Copyright 1977
Dallas, TX: Ram Publishing Company
Soft cover, viii + 371 pages
ISBN 0-915920-26-3
5.5 x 8.5 inches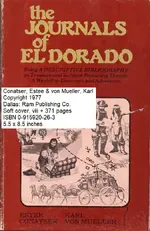 This is a valuable resource for research because hundreds of books are listed, many with evaluations on whether
they contain potential treasure leads. The book I own has issues with the binding method. Over time the glue
used for binding/holding the pages became brittle, resulting in failure of the binding and loose pages.
Lost Mines and Buried Treasures of the West: Bibliography and Place Names — From Kansas West to California,
Oregon, Washington, and Mexico
Thomas Probert
Copyright 1977
Berkeley: Univ. of California Press
ISBN 0-520-03327-2
Hard cover, xviii + 593 pages
7.375 x 10.25 inches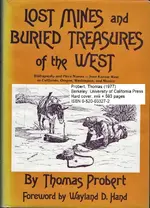 From the dust jacket: "
. . . lists the works of more than eleven hundred different authors, covering thousands of stories
of lost mines and buried treasures supposedly located in fifteen Western and Southwestern states and in Mexico. . .
"
The book covers the following states: AZ, CA, CO, ID, KS, MT, NV, NM, OK, OR, SD, TX, UT, WA, WY. For each state and Mexico,
the information is organized by the Treasure Name (and a.k.a.), General location, and a list of references. The references are
primarily books, magazine articles, and newspaper articles. It is a monumental piece of research, however, be aware that some
treasure tales may not be listed.
Treasure Hunting Bibliography and Index to Periodical Articles
John H. Reed
Copyright 1989
Gibson, LA: Research and Discovery Publications
Soft cover, 425 pages
ISBN 0-0-940519-04-6
The author states that the scope of this bibliography is limited to only articles (there are over 5,000 citations) found in
non-treasure periodicals. Period of coverage is from the 1700s to 1988. If the subject or location is not obvious from
the article title, the author sometimes provides a very brief comment. I appreciate the amount of work it took to collect
this information, however, even with an index, it is difficult to go through the book to find articles on a specific site.
Historical Atlas of the Outlaw West
Richard Patterson
Copyright 1985
Boulder: Johnson Books
ISBN 0-933472-89-7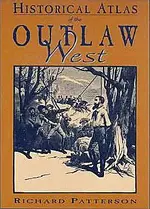 I found this book at the library and did not write down all the pertinent book information.
There are chapters on the following states: AZ, CA, CO, ID, IA, KS, MO, MT, NE, NV, NM, OK, OR, SD, TX, UT, WA, WY,
Each state chapter begins with a black and white copy of a late 1800s state map. For specific towns/city/place, the book
notes the county the place is located, follows by a short section of text describing the outlaw activity that occurred.
Example: for Diablo Canyon Station, Coconino County, there is a description of the Diablo Canyon Station train robbery.
Last edited: