Oct 23, 2006
5,240
1,050
🥇 Banner finds
🏆 Honorable Mentions:
Detector(s) used

Minelab Equinox 800, Excalibur 1000/II (hybrid) , Teknetics T2 SE
Primary Interest:

Other
I don't post much anymore because I don't get out detecting as much as I used to, but I finally took a long overdue vacation down the Jersey Shore. I took 3 detectors that I thought were most suited for the beach, a Minelab Excalibur, and both the White's Dual Field PI and MX Sport. I used the Excalibur for a good part of the week finding usual bottlecaps, junk rings, one diamond stud earring and plenty of coins (including a few older pennies in remarkable shape for beach finds) but didn't have the charger so when the battery was drained I moved over to the MX Sport.
I had never used the single frequency Sport on the beach, but I was surprised how well it handled the beach, even the wet beach! I was getting signals as deep as 8 or 9 inches in the dry sand. The rose gold ring came in at a nickel tone and was an awesome surprise, but when I got a very jumpy signal at around 7 inches, I was thinking Bud Ice bottlecap. When I saw gold it put a huge smile on my face, but when I saw the 1915 gold coin I was super pleased to say the least!. It's a 1 ducat from Austria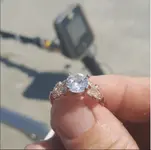 Last edited: