Dec 12, 2014
489
1,306
Detector(s) used

Garrett , Whites
keene puffer drywasher , Keene A51 Sluice
Primary Interest:

Other
I can't help it I'm a collector so don't ask why.
Most were bought at yard sales with the exception of the two
Green Garrett Gravity trap and super sluice.
I have 53 in pictures and 2 not shown for a total of 55
My favorites
1) 14" black Proline Professional
2) 14" Garrett Gravity trap (wish it was black)
3) 15" Garrett super sluice (I need two hands to use)
4) 14" No name black with Y that channels your Cons (also holds you thumb)
5) 11" finishing is black and marked 1849 gold pan made in California.
I have a few of these only one has a wide bottom (the one I like)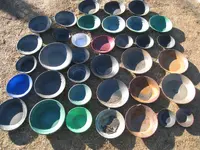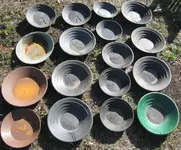 A little fall color and some un-panned drywash cons.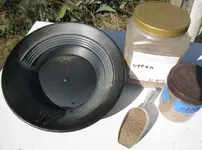 Cheers Mike