Jan 5, 2016
2,621
5,374
Detector(s) used

Minelab X-Terra 705 Gold / Garrett PropointerAT.
Primary Interest:

All Treasure Hunting
I know I don't post every time I go hunting or every time I find something interesting but I figured I'd post a little report on some of my recent milestones.
My 7th sterling silver fork
A nice 925 ring as my 50th dug ring.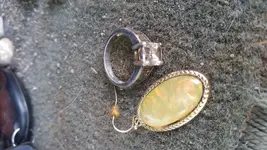 I found an 1882 Indian head cent to add to my collection.
(Not my oldest found coin, but my oldest found IHC.)
And my 6th collar insignia, this one being from the WW2 era.
Thanks for looking