Recent Digs... Got out in an old camp I've hunted over the years and tried out the Garrett AT Gold with the 5x8 loop. That's what HomeGuardDan's been using in his colonial homesites. KILLER! I couldn't believe how much I (and tons of other people) have walked over in the past. The target separation was phenomenal. This is a winter camp so is iron infested. I'll be back!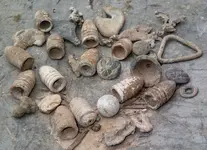 I
also found what I believe to be a pewter mouthpiece to a bugle or other

instrument

. It's in the main picture and also in the center of the picture below. Any of you ever dug a pewter one?