Holy cow was it a hot and sticky day! I had PT for my shoulder and have been itching to get out so I brought my detector with me. I drove up to the farm and saw that they had turned one of the fields over!!
I went out there with minimal gear and started swinging with my not-so-coordinated left arm... I looked like a mess... But, it was worth it!!!
I was only out for about an hour and a half or so. I went over where I have found a colonial homestead. I found some pieces of stoneware and porcelain sitting right on top of the ground. This was a great start!
First signal was small and tight and pinging in the upper 70s-80s on my AT Pro. I found this small heart. I can't tell if it dates to the same era of colonial, but it sure is a cool find! I saw it as a possible sign of good health and peace, since I have been struggling physically and mentally due to my shoulder injury.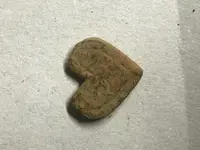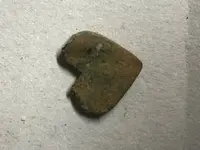 About 5 feet or so away I started getting a nice signal and only about 3 inches down was this beautiful small tombac button with a little detail. Unfortunately, shankless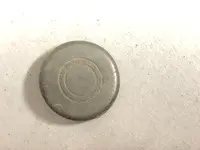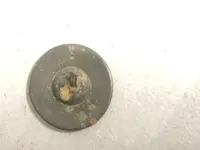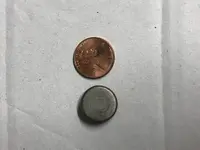 Another signal I had was hitting solid in the lower 80s. I had a feeling it was something decent, and then I pull this out... A copper nail?


I put the nail right next to another nail I pulled right around in the same area. Weird, I have never imagined I would pull one of those. This this copper/brass?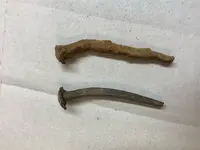 Here are pics of the surface finds and also the dreaded nail pile

Not bad for a short hunt. Can't wait to head back out!!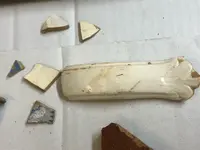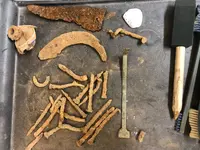 OH! I also made a friend who hitched a ride for about 5 minutes. I named him Fred... He was a fun fellow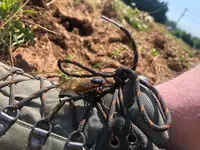 (My boots do not interfere with my detector)

CHEERS everyone!!