Apr 21, 2012
157
639
Detector(s) used

Equinox 800 / Garrett AT Pro / Garrett ProPointer, Garrett ProPointer AT
Primary Interest:

Metal Detecting
Today a hunting buddy took me to a local schoolyard that I hadn't been to before. After about three hours of hunting with only clad, a token, a foreign coin and a whole lot trash to show for it, I was getting ready to call it a day. I was making my way towards a ball field when I got a high tone signal (33 on my Nox). I had been getting a lot of these high tones all day and they were always junk, so I almost skipped this one - I'm glad I didn't.

I cut a plug, dug about 8 inches down and poured the dirt on my drop cloth. The coin was covered in dirt, but I saw the silver reeded edge immediately. The coin looked too big, I didn't know what it was at first. I carefully rinsed the dirt off with some water, saw the seated liberty on the front and then just about lost my mind.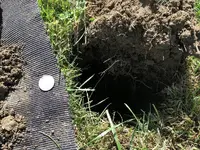 It's an 1845 Seated Liberty Half Dollar - a HUGE bucket lister for me. I still can hardly believe I found it.

It's a shame it's stained from being in the ground for 150+ years, because the details on this coin are in really terrific shape. (This photo shows the coin lit from one side to highlight the details - don't worry, I've only rinsed it with water).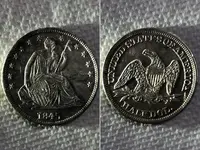 I called my buddy over to see it and he was as excited as I was (and also a little jealous, which made the find even sweeter). I definitely owe him a couple of beers for bringing me to this site.

Thanks for looking - HH!