Hero Member

May 28, 2003
712
368
🏆 Honorable Mentions:
Detector(s) used

White's Eagle Spectrum
Primary Interest:

All Treasure Hunting
Hello friends, well the metal detecting gods smiled on me yesterday as I went out for a typical day of metal detecting. Turns out it was anything BUT a normal day as you shall see. I decided to go deep into the woods behind this old picnic grove (circa 1850).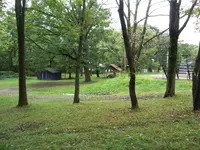 First hour was better than usual: dug 2 Indianheads 1889 & 1907, then 2 wheats 1912 & 1920 plus an old cufflink and possible a suspender clasp?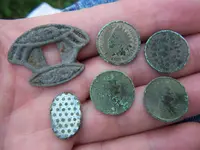 Second hour gets interesting. Came across a dead tree in the woods and swiped my detector under it and sounded offf like a tin can but with muliple VDI's :quarter, dime, etc., you get the picture.........Dug the hole about 6 inches and staring me in the face is a Barber Quarter, pulled it out, and can see multiple coins in the hole, some loose and some stuck together. What a friggin' rush. Didn't need my detector, just kept sticking my fingers in the hole feeling for coins and took them out of the hole one by one. Then I scanned the hole with my detector and got a few more making sure I didn't miss any. When all was done, there were 25 coins in that hole ranging from 1908 to 1941.
The coin breakdown: 1908-O Barber Quarter, 1913 Barber Dime, Mercury Dimes: 1920, 1924, 1928-S, 1939, 1941. Buffalo Nickels: 1918, 1920, 1923, 1923, 1926, 1935, 1935. Jefferson Nickels: 1938, 1940, 1940, 1940, 1941, 1941. Wheaties: 1920-D, 1934, 1938, 1940, 1941.
A most memorable day in my life detecting. Thanks for looking, and yesssssssssss there are coin stashes and caches still out there.........Rich