I bought a mystery trunk at an estate sale, it had old books, small paintings, and some other items.
But at the bottom of the trunk was
This document under a peace of
Cloth.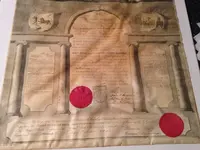 It has multiple signatures and
Is dated "1845"
That's almost 170 years old.!!!
I wonder if it's worth anything??
And how would I even find out??
Any ideas??
Last edited: