Oct 3, 2009
6,265
2,102
🥇 Banner finds
Detector(s) used

White's DFX & Spectrum~Garrett's Pro-Pointer~VibraProbe
Primary Interest:

Metal Detecting
Update: All of the 14k Gold, 10k Gold, and Sterling Silver are SOLD. There is some costume jewelry left. If anyone wants it for $15.00 + $3.00 SHIPPING, send me a PM.
Hey Y'all,
I'm selling my MD jewelry and have listed it below basically in order as shown in the photo. Be sure to send me a PM if you have any questions or want individual photos. Below are the information and photos.
Miscellaneous
1. Gold plated with red stone, very large & showy ring
2. Cloisonné Band floral outside & cloisonné solid inside
3. Wedding Band, large, not sure of material, maybe stainless steel
4. Copper, hammered dome shaped, adjustable
5. Copper Band, engraved
6. Wedding Band, marked only with 2 dots, could be silver or plated
Cheap Rings
The next 10 rings are costume, cheap rings.
Religious Jewelry
1. The 3 Crosses pendants are not marked.
2. The Angle cutout & Pray charm/pendant are not marked. The Rosary charm is plated and showing age/wear.
Pewter
1. Greek Coin Pendant, Pewter, Attica, Athens AR "Transitional" Drachma. It's really old looking, but SS said it was a modern copy. I'm not that familiar with Greek coins, so the new owner would make that determination.
Token/Medallion
1. Marked: Regis High School, New York, 1914; very heavy & thick.
Collegiate Challenge Coin
1. This is a vintage University of North Carolina Tarheels Collegiate Challenge Coin.
Miscellaneous
1. There are 11 pieces of miscellaneous costume, cheap pieces. There is one earring that appears to be gold with a pearl.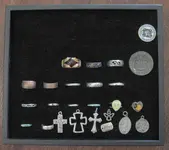 Southern Smiles

Breezie
Last edited: