Aug 24, 2005
274
69
Detector(s) used

Garrett Ace 250
Had to share!
Story goes that my wife's great great uncle received this from his father when he was a child, sometime in the 30's I guess.
Identified it using this awesome site (
Bayonets of Japan
) and I believe it's a Japanese Type 30, early WWII.
Then again, though that one has the correct markings (4 stacked cannonballs, M with an arrow through it) it doesn't have the hook at the base of the blade.
I did find one with the correct markings that is the same shape, odd it isn't on the identification site!
http://www.ebay.com/itm/WW2-WWII-JA...IONAL-DENKI-KOKURA-ARSENAL-RARE-/331129908610
From that ad if I'm correct the markings mean "National Denki (M with the arrow), under Kokura Supervision (stacked cannonballs)
Thoughts?
And no, it isn't for sale. We'll be passing it on someday!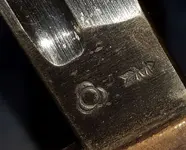 Last edited: