Dec 19, 2004
1,581
212
Detector(s) used

Minelab X-Terra 70 / Tesoro TigerShark / Fisher F70
Primary Interest:

All Treasure Hunting
Dug these two buttons this morning with 18 other buttons today plus 7 others last week. Last week were some early flats, two eagle artillery's and one rifleman's button (c1812). Today's digs provided me with two new buttons that I've only ever seen a picture of, now I have one of each for myself

In addition, I got 3 more eagles today

Also came up with a broken Tombac button.
The first unknown button one is a tall ship with sails button, it is approximately 7/16 inches across. The 2nd is a tiny cabin button, approximately 1/2 inch across. I don't know what they're for or their true age.
I think I've seen these online but now I can't find anything. Does anyone know? The time period of this field is c.1800-1850's. The best I can come up with for the cabin is possibly a William Harrison 1840 Campaign Button but mine doesn't have the rim around it (see pics). I cannot read the backing on either of these two.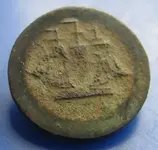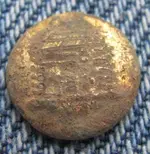 ...and the rest of the goodies