Nov 22, 2013
9,180
16,378
🥇 Banner finds
🏆 Honorable Mentions:
Detector(s) used

Garrett AT Pro, AT Max, Minelab
Equinox 800
Primary Interest:

Metal Detecting
Got a random phone call to look for a lost ring, guy turns out to be a friend of a friend...no problem I say, got the details as to where the ring could be, made arrangements to meet at the location. Glad to help, but no promises, as his wife's engagement ring had been lost 10 years ago.
I was happy to find 82 cents as I was looking for mid-tones (wasn't gonna pass up loose change.

) About a half hour or so, I felt good about the solid 54, 4 inches deep...
BANG!!! Dude was so happy, we agreed that all I wanted in return was him to come over to my place, and grab some pics, as I had forgotten my camera. After a few beers, handshakes and storytelling, we said goodbye... his wife is going to be so happy. Wish I could see the look on her face when he surprises her later today.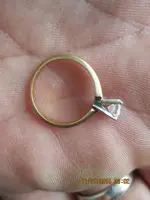 Thanks for looking!