Apr 20, 2018
1,634
7,745
🏆 Honorable Mentions:
Detector(s) used

Fisher CZ-21, Minelab Excalibur,Garret AT Pro,
Primary Interest:

All Treasure Hunting
I went back to the middle school where I found the civil war bullets hoping for more. I did manage to find one after about 2 hours and it was beginning to look like one was all for the day. I moved around to the other side of the school to give it a quick look and my 5 hours was about up when I found another and within 10 minutes I had found 3 bullets and a knapsack hook all in about a 3 foot square area. Persistence paid off again.
All together I spent 5.5 hours swingin the CZ21 and found 89 coins with a face value of $4.16 (56 pennies), the knapsack hook, a kiddie ring, a 1945 wheatie, a screw in athletic cleat, 4 civil war bullets, a weird .45 caliber bullet, some tabs and can slaw
The bullets are all drops, but some of the last batch were mangled during the school construction and were found within 4 feet of the building. The first bullet is a .58 caliber minie ball in great shape (it was in the middle of the field), then another minie, a beautiful Williams type lll without the zinc plunger and a mangled Williams type lll with plunger. My favorite find is my first knapsack hook. I have found over 1,000 civil war bullets and a few dozen other items, but never a knapsack hook or J hook. So now I can check that one off the list.
I also found this weird bullet like item. It is heavy like it has lead inside and a copper jacket like a modern bullet, but it has a crimped top that has some plastic sticking out of it. No sign of rifling or a crimp when a shell might be attached. If anyone knows what this is please let me know.
I went to the other middle school and spent 5 hours with the CZ21 and found 124 coins with a face value of $9.01, a NO CASH VALUE token, a sandwich charm, a modern lead seal, half a brass faucet handle, another bell shaped whatzit, a fashion ring, 2 wheaties (1912 & 1941), a Charms Candy token, tabs and miscellaneous metal bits.
The Charms Candy token is badly beat up and eaten by the soil. It is a Herbert Hoover token, not sure of the date it was produced.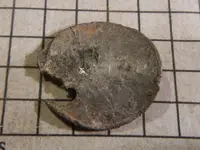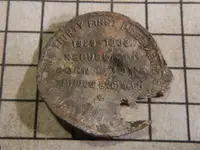 When I saw this ring in the plug I thought I had a real winner and then I looked at the side and could see it was plated so "BAZINGA".
I went back to the other school and did another 5 hour hunt. I got my Excalibur out of moth balls and decided to see if it made finding bullets easier on that field. I used it for about an hour, found some coins and a pendant and the battery went dead. I haven't used it in a while and forgot to charge it. I'll have to give it a better workout next time. So I spent the next 4 hours with my CZ21.
All together 71 coins with a face value of $4.70, an old padlock, a pocket watch frame, 2 old football cleats, a brass loop, a silver half dollar, 2 more civil war bullets, a cheapy pendant, tabs, cans and assorted junk as usual.
The bullets are both .58 caliber minie balls, but the one on the right has been carved into what looks like a chess piece. Carved civil war bullets are cool finds.
The half dollar is a 1904 Barber half. When I cut the plug I thought I was digging a quarter. It was still in the hole so I pinpointed and scooped out a shovel full of dirt and put it on my bucket lid. I only saw part of the edge sticking out of the dirt and I thought I had dug a big stainless washer. I turned it over and saw the Eagle and boy that was a nice surprise. Only my third Barber half in almost 20 years of diggin.
The watch frame may be civil war era and I believe the brass loop is part of a sword hanger. It shows wear on the top and bottom of the belt loop. The lock is badly rusted and the style looks more like early 1900s to me but I'm no expert. Any help in confirming info on the frame the loop and the lock will be appreciated. It would be cool if they were all civil war era pieces. The principal has said she wants the civil war stuff for the school display so hopefully I'll keep getting lucky so they have a good display.
I was going to go back to the schools again today before the kids come back, but the rain was just too heavy. I've got the Excalibur all charged up and ready to go. Maybe tomorrow will be better weather so I can get in some more detecting before the hard freeze that is predicted for us.
So a good end to 2021 and hope for a good 2022. My year ends on April 30 so I still have 4 months in my year. I'm on track for a good year with $745.03 so far in face value. Thanks for looking, stay safe and may your coil lead you to good things. HAPPY NEW YEAR TO ALL, MAY IT BE BETTER THAN LAST YEAR!