Jun 15, 2010
4,836
6,614
🥇 Banner finds
Detector(s) used

XP Deus
Primary Interest:

All Treasure Hunting
With my last post
http://www.treasurenet.com/forums/today-s-finds/533136-couple-nice-roman-coins.html
the story started.
We detected around a large Roman settlement to get what's left after years of detecting the site. We were out on a neighboring field gridding a loose pattern hoping for a hotspot somewhere between the scatter of broken roof tiles. My buddy started at one end of the field, i started where the scatter of tiles ended towards him. At one point he called over with a coin. About a minute later he had two more and i started digging coins also. We realized soon the coins were in a small stripe about 15' wide and 100' long inline with the plowmarks.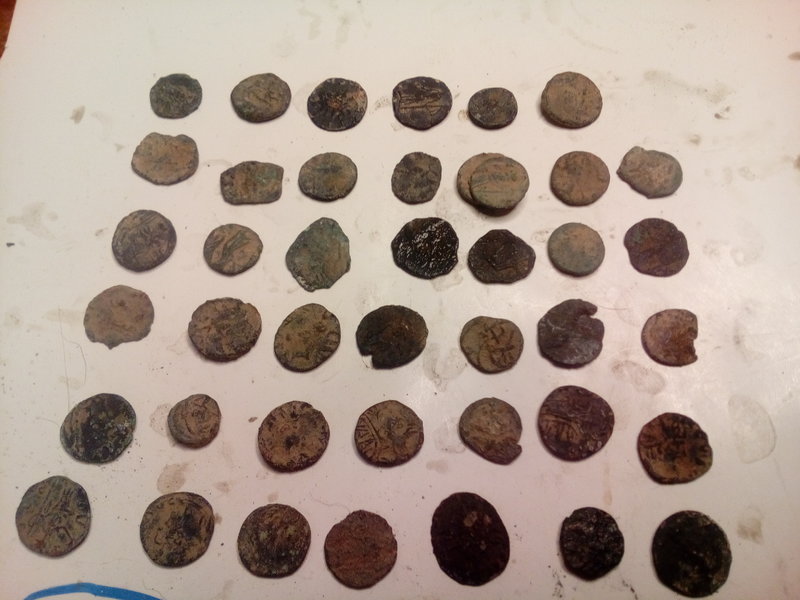 We had to stop because time was running out and returned a day later to recover more coins. Till this point we had about 150 coins in the pouch and it was time to call the Archies in. Then the machine started.... Meeting on site with my Archie and their surveyor, several telephone calls, meet the landowner to get his ok for excavating, renting a small excavator, lump together a team and so on.
Today we met early in the morning in the field and started removing the first 4" of soil in the area where the most coins were found.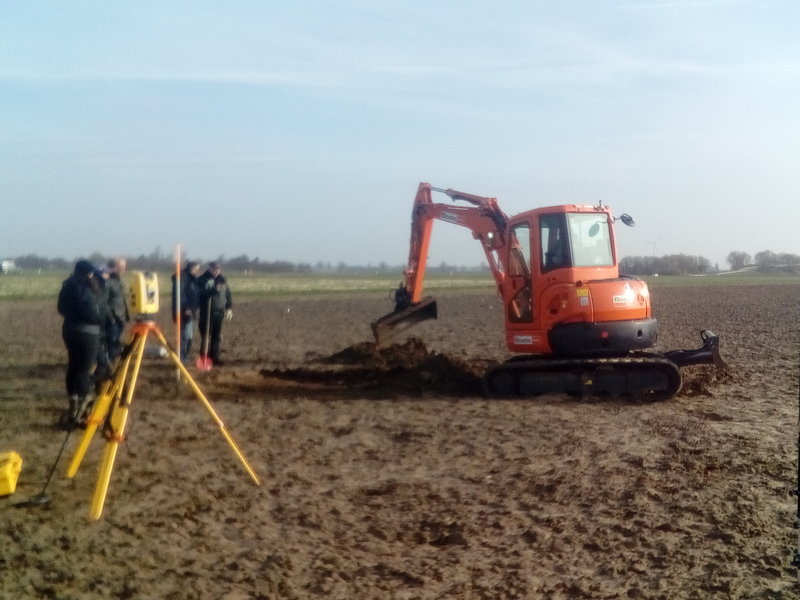 There we got another 40 or so. That was when we stopped packing them in zip lok bags one by one.

Then the next 4" were ground of. More coins. Every coin was GPSed now because we nearly hit plow depth. Here is a pic of the pattern of coins. You can see how they lay in a line. Count was 137 then.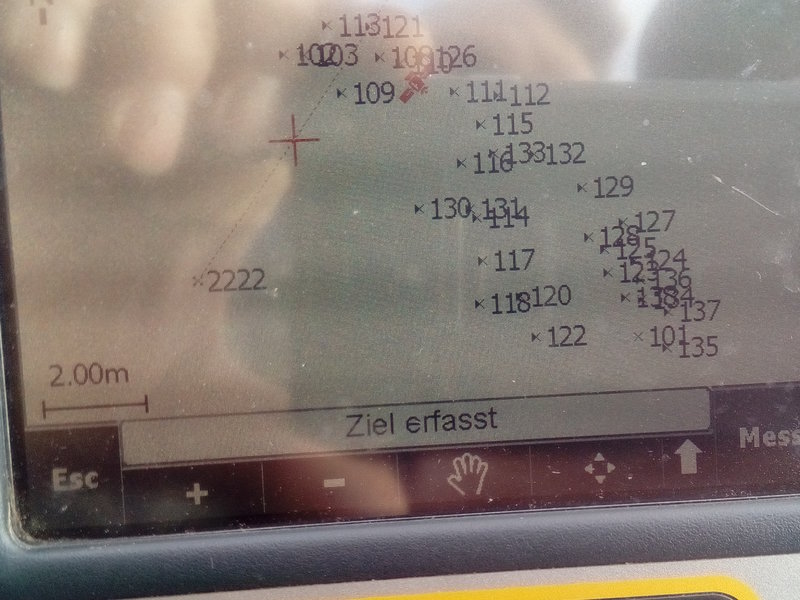 Unfortunately coin finds started drying out.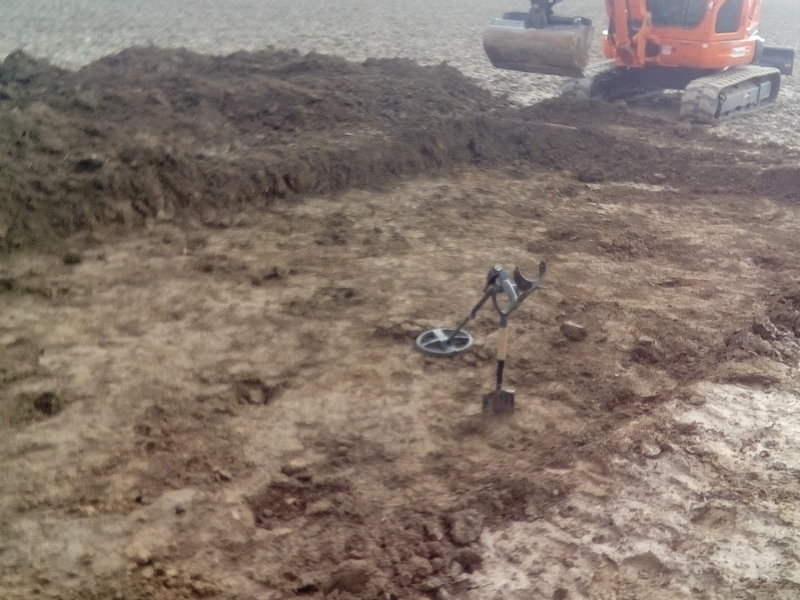 Next was a base grade to get a better look of the area.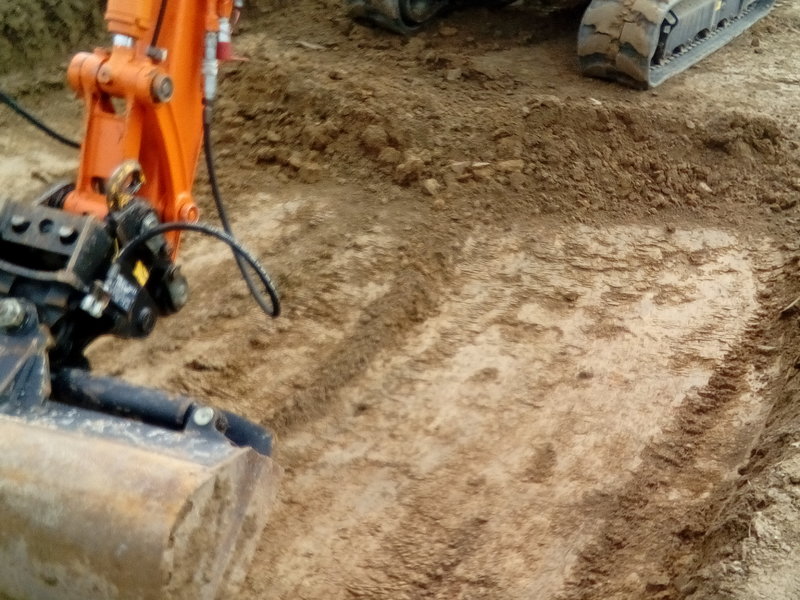 Thats when the outlines of a burial with side laying grave goods chamber turned up. White line is the burial, yellow is the chamber and red circle is where i found the bronze bell.
The bell in situ.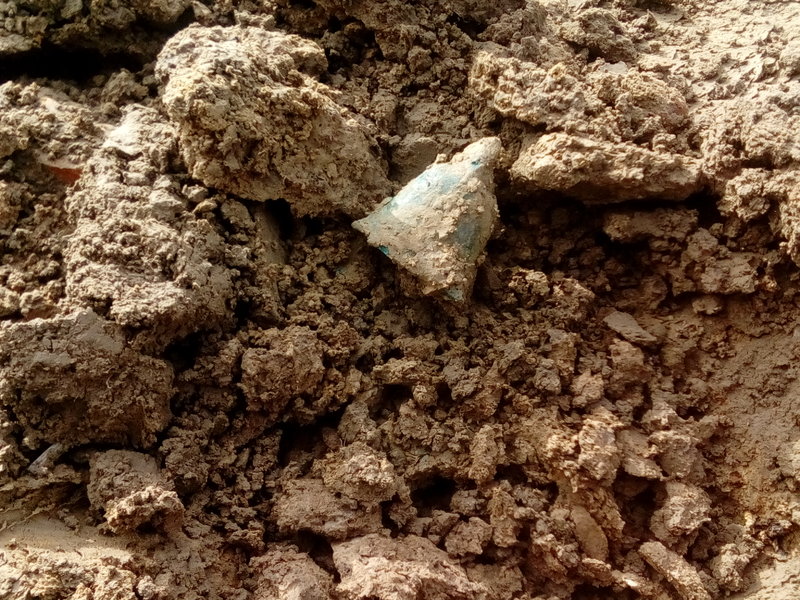 After that all was recorded and what was left of the burial was recovered. Everything inside was spread by the plow a long time ago so only 1" to 2" of the bottom were still there. No bones or ash, no grave goods other than the bell were found.
Wild guess is that a leather bag was hidden at the grave and never picked up. Coins are all Barborous Tetricus I and II 271-273 AD. Count till this evening is close to 300 coins. Tomorrow we'll get some more.... Sorry for not having a pic with all coins together. All went in bags fast....

Last edited: