Jul 9, 2014
186
395
Detector(s) used

Garrett Ace 400, Garret Carrot, Recently retired Bounty Hunter Quicksilver
Primary Interest:

All Treasure Hunting
Detecting on a new permission today. House was built in the early 30s and is a rental so a lot of recent activity. Figured it would be full of a lot of junk but it wasn't bad.
One of the first finds was this silver (sterling I think) pendent.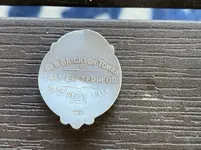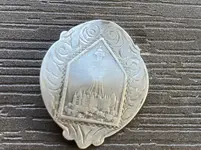 New Brighton Tower 14th Eisteddfod. 19th Sept 1914.
Makers mark has an A&B then an Anchor Lion and P which lines up with silver smiths in Great Britain.
The tower was dismantled in 1919 and the Beatles appeared to play in what was left of the ballroom until a fire in the 1960s.
Also dug a nice IH Penny. 1898
Old maps don't even show a house within a half a mile of this location in the 1800s so hard to say how it ended up there.
Also found a couple of wheatie's, one dating back to what looks like 1927 or 1929.
Nice lighter, some clad, couple brass pieces (a snuffer, or bell piece) and what looks like a costume jewelry piece...maybe not. Has some stones set but can't tell. Might have to do some tests.
Oh and a nice dog tax tag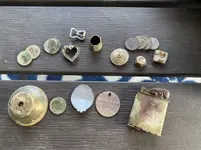 Last edited: