Sep 17, 2004
904
2,637
🥇 Banner finds
Detector(s) used

XP Deus, Fisher 1275 LTD, Fisher 1265, Fisher 1270, Tesoro Vaquero
Primary Interest:

Metal Detecting
I've been dying to get out, but the ground here in the Berkshires is still too hard to get to. So I traveled south today in between appointments and found softer ground in nearby Connecticut, and just randomly parked the car as soon as I saw some open woods. Literally turned the Deus on and got a decent signal within the first couple sweeps under an old log. Figured it was a can because it sounded kind of big, but once I got under the log I could hear multiple signals.
First to come out was a Seated quarter, I couldn't believe it! Then another, and still there were signals in the hole, started to get pretty excited. When the dollar came out I nearly lost it, I couldn't believe my eyes! First dollar after 16 years detecting, I actually thought it was Seated because of the other coins, but then I saw the beautiful Morgan design!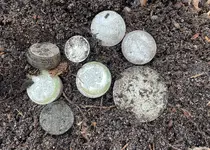 Coins were coming out packed together, all in the same hole, I thought maybe I stumbled on a cache. Then I started finding bits of cloth mixed in the soil so I guess it could have been a purse or bag. Took a picture at the car and then after I got home, but I didn't want to mess with them too much because I like the way the corrosion looks where they were smashed together.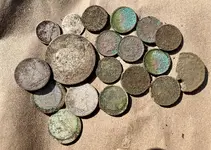 The Morgan is 1885O, such a beautiful coin. Seated quarters are 1873, 1876S, 1877, and 185?, I think 55 but I don't want to remove the green. Dimes are 1877 and 1891, only one V nickel is legible 1890, and the IHs are 1864, 84, 86, 87, 96, and 3-95s. there was also a super-corroded Largie in the hole, never seen one that chewed up, not sure why.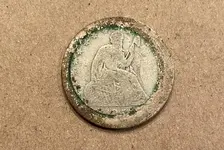 Very cool to see the cents that were firmly packed together show areas where the copper is bright. Also never seen that before.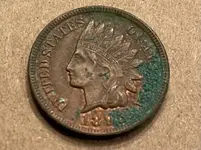 Still can't believe it, such a random one-in-a-million spot in the woods and I turned my machine on right next to it. One of the best finds I've ever had, already a great year!
HH,
Steve