Aug 14, 2016
796
6,584
🥇 Banner finds
Detector(s) used

Deus XP
Primary Interest:

All Treasure Hunting
I prefer tracking down lost colonial structures, but I do yard hunts from time to time as demonstrations or for people who are interested in their house's history. They can be fun, but obviously produce a lot more modern trash and around here there tends to have been extensive landscaping around the houses so not usually much original ground is left to detect. As a result I manage the expectations for myself, but occasionally I still get surprised. This particular house was supposedly built in the late 1790's but had obviously been significantly modified and had apparently been detected many times in the past when a previous owner was there. Not particularly old and previously hunted so I was expecting even less than usual.
Most of the yard was recently scraped down to the ledge and replaced with fill so that was toast. There was one small strip going down a slope away from the house that didn't appear to have been messed with and very quickly I pulled out a flat button. Soon there were several more, including some cone shank tombacs which is a very good sign. To my surprise I even starting digging large coppers that had somehow been missed! The buttons alone had me questioning if this house was really built in the 1790's: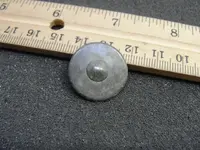 One of the tombac buttons is a new type that I haven't seen before. It almost looks like the shank was inserted into the molten tombac as opposed to the cone shank variety where it was cast around the shank. Very unusual and I suspect middle 1700's. The first colonial copper that I pulled out also ended up being a pretty old one: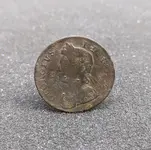 It took a bit of cleaning, but it ended up being a particularly nice 1731 King George II half penny! Nearby was another old copper, that also cleaned up fairly well, although not as nicely as the first: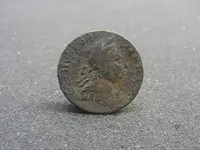 It's a 1774 King George III halfpenny, but a counterfeit which is unusual as most counterfeit KGIII half pennies are dated 1775. There were even a few more recent large coppers, although not in as good shape as the colonial coppers: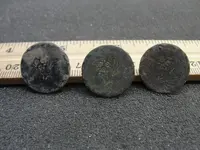 An 1802 Draped Bust Large Cent, a completely toasted Classic Head, and a decent 1820 Matron Head rounded out the copper coinage.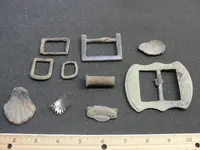 After the few hour hunt I had a decent aggregation of finds and considering the area had been hunted I was pleased with the result. It wasn't even until I got home and started the cleaning that I realized what I had accidentally mixed in with the buttons.
There was a small, bent disc that was the exact size and thickness as a tombac. It had even rung up on the detector in the same range. I couldn't see any trace of a shank in the field, but even that isn't too weird with the caked-on dirt. What was weird is that even after I started cleaning it I couldn't make out a shank scar on either side. It also wasn't cleaning like a tombac would. The patina on the edge was flaking and becoming a brighter silver. There was no visible trace of a pattern, so I started using Andre's brush which wasn't doing much until I angled the light differently and a design popped out in the center: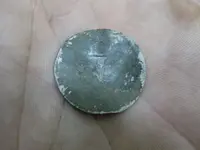 It was a coin! And not just any coin but obviously an extremely worn silver coin and it given the rough and thin nature it also had to be early! The crown with the "L" seemed familiar, but I continued on the reverse and was able to pull even more detail off that: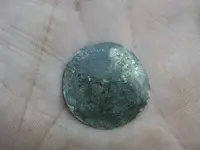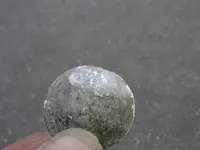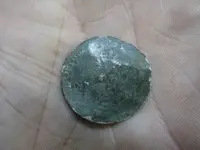 Now I can see some lettering, "enedictum" and another crown. A little more work and a date appears above the crown: 1743!!!

Now that's some seriously old silver for my area and even better it reminds me of one I'd seen in a book so I dug out my old red book and there it was; under the French colonial issues, a Sou Marque!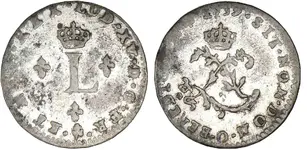 These were specifically minted for use in the the French colonies between 1738 and 1764. The material is a 25% silver billon which is why it rang so low and why it's in such rough shape. Apparently the later issues had even less silver content to the point where some were just silver plated copper. There are a ton of different mintmarks and some are extraordinarily rare, but unfortunately the mintmark on this one doesn't seem to have survived. Still, I'm just glad enough detail survived to identify and for the date to also still be there is just fantastic!
I don't think I've seen any others of these posted here on Treasurenet. I should think it'd be found on early sites in Canada though, but have any others out there been found?
This silver coin, the KGII, along with all of the cone shank tombacs, has me thinking maybe this was the site of a late 1760's or early 1770s house since this is a good amount of early pieces to be floating around in the 1790's, but who knows. Definitely one of my better yard hunts and I'm super happy with the early and unusual silver so this was a good day!