Apr 18, 2014
98
229
Detector(s) used

Garrett Ace 250
Primary Interest:

All Treasure Hunting
Two years ago, I found a US State Militia Panel Plate Belt Buckle that dates circa 1850-1865 in the yard of a 1910 home in Sudlersville, Maryland.
Here is the original thread I made all that time ago:
http://www.treasurenet.com/forums/t...-belt-panel-plate-cannot-believe-my-eyes.html
At the time, I was determined to find out who may have dropped this belt buckle, a 19th century militia relic where I least expected to find one, especially since all the other relics I've found at this site are appropriate to the age of the house!
This is how it looks now after a good cleaning: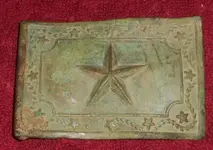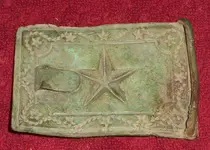 Two years later, I still haven't come any closer to finding out who this buckle may have belonged to. The only clue I have is that the property was likely owned by a William Nickerson in 1877. If anyone on this site could direct me to an atlas of Queen Anne's County MD pre-Civil War, a list of Maryland state and local militias at the time, or any info about Sudlersville, MD and how it may have intersected with the Civil War, it would be most appreciated; I've been working on this mystery for over two years and could really use some help on that front.
Cheers, Kyle
PS: Moderators, If there's a more appropriate forum for me to direct this question to, feel free to move this thread there