Apr 18, 2014
98
229
Detector(s) used

Garrett Ace 250
Primary Interest:

All Treasure Hunting
Yesterday, I posted a thread here called a Few Whatsits and Two Bullets from Beach near Coast Guard. One of the items I asked for help identifying in particular now stands out after I read one of the responses I received: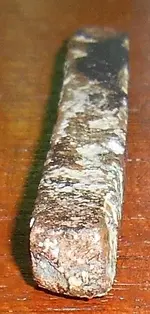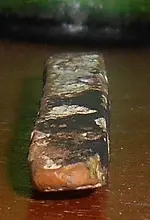 Icewing told me this may be a broken old brass ship's spike or nail. At his suggestion, I performed a magnet test to see if it was ferrous or not, and scratched the piece with a steel nail in two spots to see what the color of the base metal was. It is most definitely NOT magnetic, and the scratched metal definitely has a golden tone, with a silver-like gleam in sunlight.
Now if I'm correct, brass silver ship's spikes were very common for wooden boats from the 18th to the 19th century. That would line up perfectly with the description of a known sloop/ketch/skipjack that sunk right in between the mouths of Churn and Still Pond Creek (creeks branching off from the Upper Chesapeake Bay). The
Superior
is a sunken boat shown on a National Geographic map of sunken boats and ships in the Chesapeake Bay, listed as having sunk on 12/27/1811. A look on an ArcGIS map confirmed not only that there was a wreck in that spot, but that it is less than 0.3 nautical miles upstream from the public beach facing bayward that I was detecting!
So what is the likelihood that my spike dates no more recent then 1811? Does anyone have any information on the sloop/ketch/skipjack
Superior
that sunk in the Chesapeake Bay on 12/27/1811? And just what do you think of my findings and conclusions on this likely brass ship spike? Do you think I'm on to something?
Happy hunting, Kyle

PS: ArcGIS also lists two visible wreck sites on the downstream side of the peninsula that I was detecting on, but I did not go to the downstream-facing side of the beach, and given their position I find it highly unlikely that the tide could have made a brass spike drift all the way around the peninsula and onto the beach on the opposite side.
Last edited: