Got away with the family on a solo mission. The rest of the A-Team, Lookindown and DavidFL couldn't make it this time and man I wish they were there. My wife and daughter went with me and it all still seems like a dream. We got to the beach at about 8am. It's a private beach that the workers in the area say they never see anyone else hunting there. I got permission before I went and I still can't believe how it all went down. As soon as I entered the water there were targets every few steps. This is a huge beach so I took my time and dug all of the good targets. The first few were coins and then a junk ring. I was thinking "oh ya" I just felt like I was going to do good. After about a half hour, a few coins and two junk rings the first good ring popped out.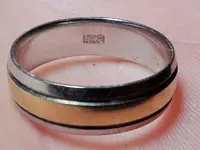 It was 10K and I was elated that I had GOLD. I only have one gold this year and I figured this was a successful trip with just that ring but I had no idea what was about to happen. Well about 15 more minutes later and a few more junkers out comes this little beauty.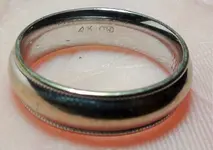 This one was 14K and I was starting to think this day could be amazing. I saw my wife sitting on the beach and took the rings to her. She told me that her and my daughter were going to go shopping for a while so I headed back in. As soon as I got back to about waste deep water I got that beautiful middle tone and the third gold of the day shows up.
Another 14K band and I couldn't believe what was happening. It was only about 10am and I had three gold rings. Well about 1 hour and four or five more junkers later I got that solid middle tone again and you guessed it. My fourth gold of the day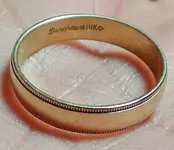 I started thinking "no way this is happening" and looked up to see my daughter wading out to me. She asked if I found any more gold and I showed her the two I found and told her to take them to her mom so she took off and my next target was a solid middle tone and one scoop later this one made it's way into my scoop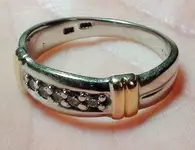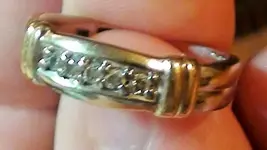 14K with ICE. I looked up and my daughter was just walking up the wet sand so I followed her up and gave gold ring five to my wife and told her if she wakes me up I gonna be pissed so if I dreaming to just let me sleep. I returned to the water and realized that all five rings had come from the same general area of the beach and I figured I would make a quick run the other way just to see if I had just found a honey hole or was this beach just that good. I got about half the way down the beach and a few people were about chest deep and one of them said they had lost their ring. He didn't speak English well at all but I could understand what he was saying. He started smiling and and said "I help you" and acted like he was swimming with his hands. I asked if he really lost something and he said "no" and asked if I have found anything and just then I got a blast from the detector right were he said he lost a ring. I confirmed that he hadn't lost anything again and one scoop down out comes number six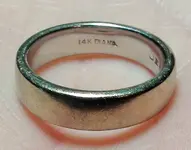 A heavy 14K band. They couldn't believe it but by this time I wasn't very surprised. In fact, it got to when I didn't get a ring when I got a middle tone I was disappointed. I was so happy to get a gold ring away from the area the other five rings came from because now I believed they could be anywhere on the beach and this beach was big enough for all three of us to have hunted. I had six gold rings at this point and I think that is the most I have found in one day but little did I know that the best was yet to come. As soon as I got back to the area I had found the first five gold rings I started picking up a couple junkers again and that's then this monster showed up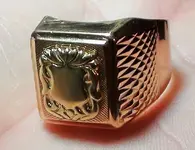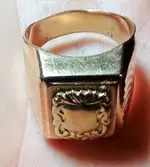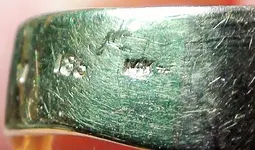 It wasn't marked on the inside so I wondered if it was real but time was short so went back at it. A few junkers later I had to leave but didn't want to. When we got back to out room I showed the big ring to my wife and told her it wasn't marked so I didn't know if it was real and she said "yes it is. It says 14K" I said "Where??" and she said "right here". It was the first ring I have ever found that was marked on the outside of the ring. I was in the water for about 7 or so hours and had 7 gold rings and 14 junkers. I actually started skipping the high tones about half way through the hunt because there were so many of them. This was a once in a lifetime hunt for me. I know there are other hunters that are used to finding multiple rings but any time I find more than one gold is a great day for me. I only found 2 gold rings once last year so I was ecstatic to get 7 in one day. My only regret is that my team wasn't with me but since I have permission to go back once a year I'm sure they will be with me next year. I might even see if it is possible to get a late season hunt there this year. Here is a pic of the stuff without the trash. Thanks for looking and HH.....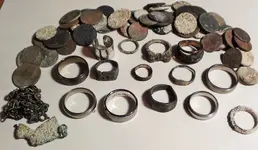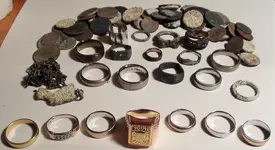 ​