Feb 22, 2014
929
2,208
🏆 Honorable Mentions:
Detector(s) used

CTX3030 w 11" and 17" DD coils,
Minelab Excalibur II w 10" coil, Equinox 800 (2) w 11" and 15" coils,
Troy Shadow x2 w 7" coil, Pointers; Garrett Carrot, Pro Find 35,
Vibra-Tector 730 w 4" coil
Primary Interest:

Beach & Shallow Water Hunting
I've been metal detecting Florida beaches for the past 15 yrs or so; first with my trusty Echo II followed by my Excal II for 10 yrs and CTX 3030 for 3 yrs. In that time, I can't recall finding any solitaire ear rings and but a few other types of ear rings in my searches of east coast and west coast Florida beaches. However, things changed when I purchased my Equinox 800 last year (2019) along with a 17" coil.
Below are some of my ear ring finds with the Nox 800 from Dec 2019 — March 2020. Unfortunately, the metal detecting hunting season for me was cut short by the Corona virus shutting Florida beaches that I hunt. Most of my ear ring finds have been on dry sand since in the water many ear rings would pass through my water scoop and be very difficult to recover…but I have found a few cleaning to the scoop.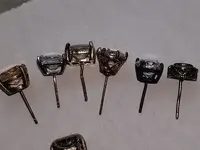 Shown above are solitaire ear rings found with the Nox 800. Five are silver (925) and the rest unknown metal, probably junk but nice. I always find the solitaire settings of interest; 4 or 6 prongs and various types of settings (e.g., basket, prong, martini, bezel, crown).
Adding to my gold total for the year (N=20), these 2 gold (14K) ear rings were a delight to find in the dry sand. Both were found on dry sand using my Garrett carrot pointer — best pointer I've used in last 6! The one on right has a missing green stone; luckily, my wife found it on the floor.
In utilizing the Nox 800, it is important to recognize that there is a positive correlation between Display number (VID) and target weight; as target weight increases so does VID number. This positive relationship holds for aluminum, silver, gold and lead targets based on my previous testing. Solitaire ear rings weigh about 1 gram and most of the weight might be from the stone and not the metal. As a consequence ear rings are light weight irrespective of metal type and are typically found with VID numbers from 2 — 9 on the Nox 800 (Beach I). This might pose a problem to some coin shooters who might ignore the lower numbers of the Nox and consider the target junk aluminum foil (typically) or juice tops. The lowest coin VID number on the Nox 800 is the nickel at "13" and US coins seldom are found with VID numbers below "10" (although I have found a few highly corroded zinc cents around 8-9).
The Equinox 800 is a machine that can find small jewelry including, as shown here, ear rings of various shapes and sizes. Although all the solitaires I have found so far have been at best silver with a CZ stone, I know there is a large DIAMOND and gold (but also accept Platinum) solitaire ear ring out there in the sand just waiting to be discovered…if I could only get to the beach. Stay safe. Happy Hunting.