May 23, 2015
24
46
Detector(s) used

Garrett AT Pro, Treasure Commander TC2X, Nokta Pinpointer
Primary Interest:

Metal Detecting

This is my very first post to the forum so, Hello everyone!
So, I found these tokens today. I am not sure what they are for, but there is a name on them "W.C. Harper" and also the town where I found them in "Port Republic, VA" (my backyard). On the back is a "10" on two of the tokens and a "1" on the other. I googled W.C. Harper in Port Republic, VA but had no luck.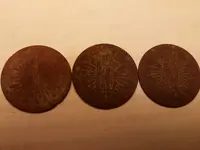 If anyone has any ideas what these are or what they were used for please help me out! Thanks!